Have you ever read about this coding quote, "I think everybody in this country should learn how to program a computer — because it teaches you how to think." by Steve Jobs? If yes, then why are you wasting your valuable time doing other tasks. Just keep a bit of your focus on your kid's career and make them to Learn Coding from their primary standards only.
Did you ever think about coding for kids in their initial ages? If not yet, then this is the right time to think of it and implement it in real life too. Don't bother about the resources to inculcate this task in your kid's study plan because the present growing internet is there for you and also we are here for you to provide all the information like what to do, how to do, etc.
In the current situation, Programming is becoming an essential skill in almost every modern business. If we take the facts, it's foretold that by 2020 there will be 1,000,000 more computer science jobs than computer science students. Sounds interesting!
But more than any of that, when taught correctly, programming can be a complete bunch of fun! Learning to code is an amazing, practical, and hugely rewarding hobby and skill for kids of all ages. In this digital world, Coding for kids is rapidly increasing in popularity.
Kids should always grow up their minds in a logical thinking way that the basic and primary step in learning programming. Programming/ Coding also permits your child to express himself or herself creatively. In the states like the USA, there are a few traditional schools offer Programming knowledge to kids. After studying the Gallup Poll report, we can say that 90% of parents are showing interest to develop computer programming learnings in kids during the school days.
If your child has an idea for a game? Does your child have an idea for a website? They should always come with these thoughts and choose their career path from their primary schooling only. There are endless possibilities when it comes to coding for kids. So, parents should keep on reading this article to find more effective & fun learning ways about coding for kids.
In this guide, you will be known about why & how to code and the programming resources for parents in 2020 and many more. So, it could be the ultimate coding guide for parents as well as kids of 2020. Here, I have given a table of contents of what you can expect in this guide and how it navigates each section for helping your kid in learning for the digital age.
What is Coding for Kids?
Coding for kids is the collection of chances accessible for children to get connected in coding. In a nutshell, Programming for kids is typically gamified making it fun for kids to learn! The advantages of choosing this skill, especially for kids, are numerous with endless opportunities.
Well, Coding or computer programming is a creative process that programmers tell a computer how to perform a task in its understandable language. While it is hard to visualize a young mind learning something so apparently complex, it's reality. But we can thank many platforms like coding summer camps, websites, online tutors, and toys because these are making kids learn to code in a fun and digestible manner.
In other words, Coding for Kids is similar to children who learn to program are discovering how to interact with those computers, hence setting themselves up with a skill they can use to build lives easier in a variety of different career fields.
Initially, parents should gather all the resources that make your child learn to code very easily and in a fun learning way. Need to start with the why to learn, outline the advantages, define key terms, choosing the best programming language, and get started with the gamified coding at an earlier age.
What is the Correct Age to learn to code?
Still, confused to start the process of programming for kids at the smaller age? Looking for the answers to these questions like, Are you wondering that your child's age is enough to learn the coding skills? Are you searching for the right age to learn to code for your kids? Then, you will get the proper answers to your questions regarding What Age is appropriate to learn to code for kids? here.
As coding can be gamified so children at the age of 4 or 5 can begin their process of choosing the right career path by learning the basic concepts of programming. At that age, kids can kick start learning how to code in a funny way like using visual block interfaces, free apps or gaming sites, or text-based coding classes that are relevant to their age.
We know that parents will think about how can kids learn logical based coding techniques in their primary schooling time or at an earlier age. In order to provide clarity, we have given the complete necessary information about all your questions in this guide. So, keep on reading to this article and acquire complete knowledge on how kids can learn to code at their small age and how it benefits in their career.
Why my child should learn Coding at the age of 4 to 5?
It's common to get this question in your heads. Parents who are having this question in their minds should first know completely what the business industries are looking for and why coding is important to learn? If you able to understand the importance of coding at first then you will get your answer to the question, why should my child learn to code?
In fact, if you check all over the web or offline business-related sources, you will find that coding is a basic education in the digital age. Because all the companies regarding any fields are using the coding techniques to enhance their business growth. If you think in that way, then you would realize how coding is revolutionizing every aspect of today's world – imagine robot-assisted surgery, social media, software applications, self-driving cars, etc.
Selecting the coding as a career helps your kids make their future bright with endless possibilities. So, learning to code at a young age is very important for your kids to understand and be able to work in any field in the future. However, Coding helps kids with communication, creativity, math, writing, and confidence.
Also, parents should know that learning to program isn't simply about the capability to program a computer also it teaches important academic skills and builds crucial soft skills like perseverance and organization. These skills can help your kids to choose the right career path. In fact, here we are providing some good reasons why should kids learn how to code? Let's have a glimpse on the below reasons:
Programming helps children learn to problem-solve
Coding helps kids understand the connected world better
Coding teaches children how to think
Programming can give your child a competitive advantage and challenges them at every point
Kids can enhance their creativity level
Computer programming is the future boom and programmers are high in demand in this digital age
Coding is fun and satisfying
Moreover, Coding helps enhance your kid's creativity, problem-solving, persistence, collaboration, and communication.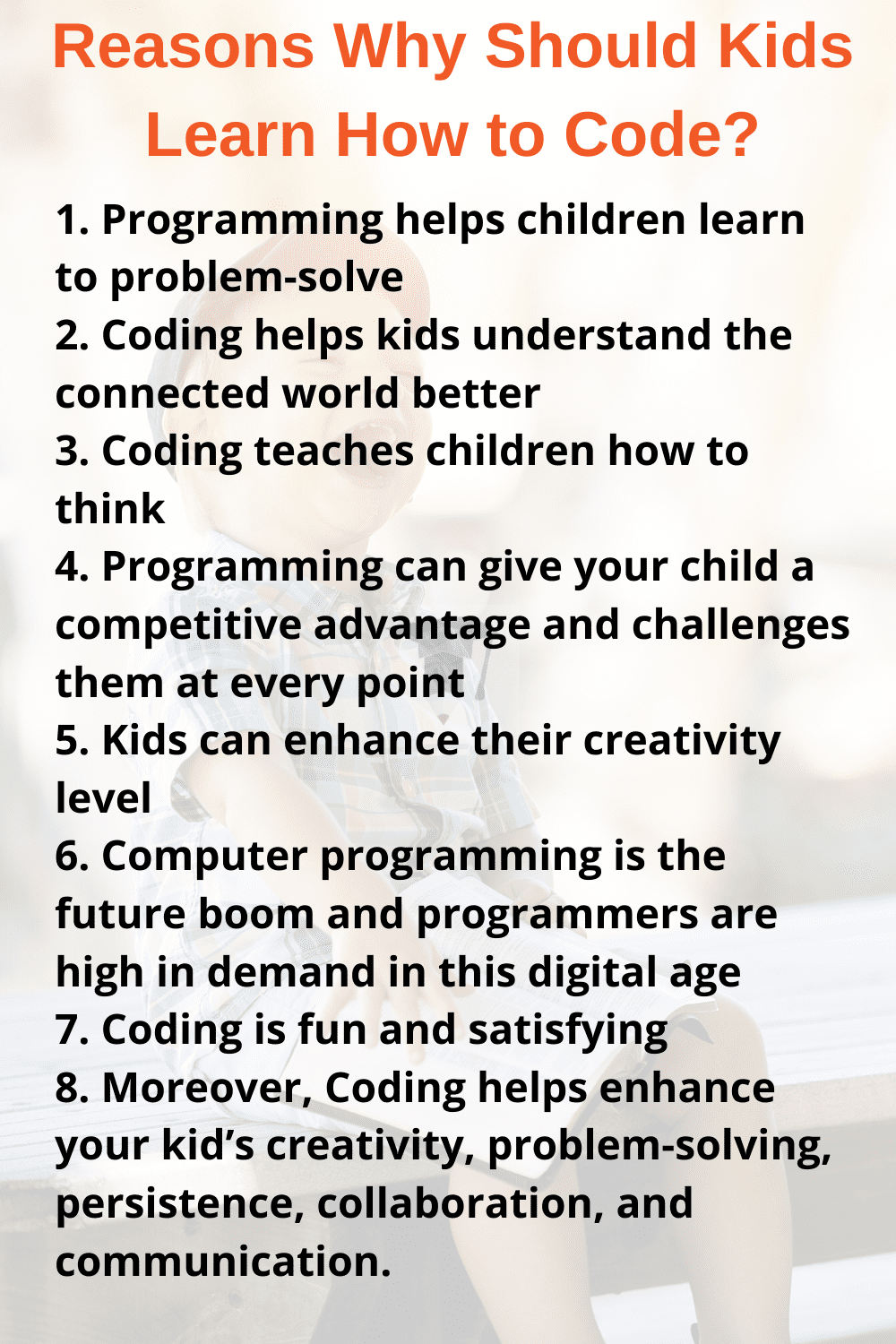 Is it difficult to learn to code for kids?
No coding not so tough whereas not so easy, it totally depends on the programmer and learner's logical and creative thinking level. The difficulty level to learn coding techniques will vary around a number of factors. When it comes to kids' perception, it may be impossible to learn to code easily, but it can be possible if parents teach their kids to code in a fun-learning and finding logic behind the code approaches.
Practically kids can't write a piece of code for the addition of two numbers because it may seem tough, but there are many interesting ways that make it easy for them to learn how to code at a young age. For instance, Scratch and Tynker give innovative visual coding languages, which makes coding fun and understandable. For kids, learning any subject in a fun and engaging way will give more results.
Children will always love to go with the game-based approaches for doing any of the tasks. If parents succeed to teach coding skills in game-based strategies then their kids will find learning to code is easy and fun.
Some of the proven research-based ways like games, apps, and other kid-centric projects help kids learn computer programming courses in a way that keeps them engaged and also teaches real-world skills. Learning programming for kids has never been easier or more fun if you force them to study or practice. Simply follow the below points on how to teach your kids to learn to code in a game-based strategy with more fun.
How to teach your kids to code?
Now before you jump to the next section where I will share the best programming languages for kids. Here, I have shared a few tips on how to teach your children to code. It is very essential to take these tips into consideration before going to start teaching your kid about coding. Coding is a crucial subject for every kid in this digital age, it helps them to make their future easier and brighter.
To teach them how to code can be easy by following these tips that I have provided below. First and foremost, Kids love games and entertainment zone, so making it entertained while learning the code is necessary. After that, check out the free and well-designed online and offline classes on coding, and finally become a mentor to your kids and teach them to code with more fun.
However, the range of coding education solutions crosses far and wide. So, there are apps, websites, camps, and personal tutors teaching coding for kids, so it's necessary to opt for the best path that works most suitable for your child. By referring to the below tips, parents can easily turn their kid's mind from any other task to this learning coding skills task at a young age. So, check out them and follow them without any fail. However,
Tips for Teaching Kids to Code
First, create a learning environment entertaining.
Make use of best coding platforms like Scratch for younger kids and Python for older kids.
Initially teach them to practice with the source code for actual programs. Don't just start with teaching any concepts wise coding.
Start with Games as they are fun programming projects for kids at a young age.
Keep your kid's hands-off from the keyboards and mouse. Try them to perform all the tasks by coding.
Provide their own computers while teaching coding in the learning time.
Skip the computer science knowledge at this age.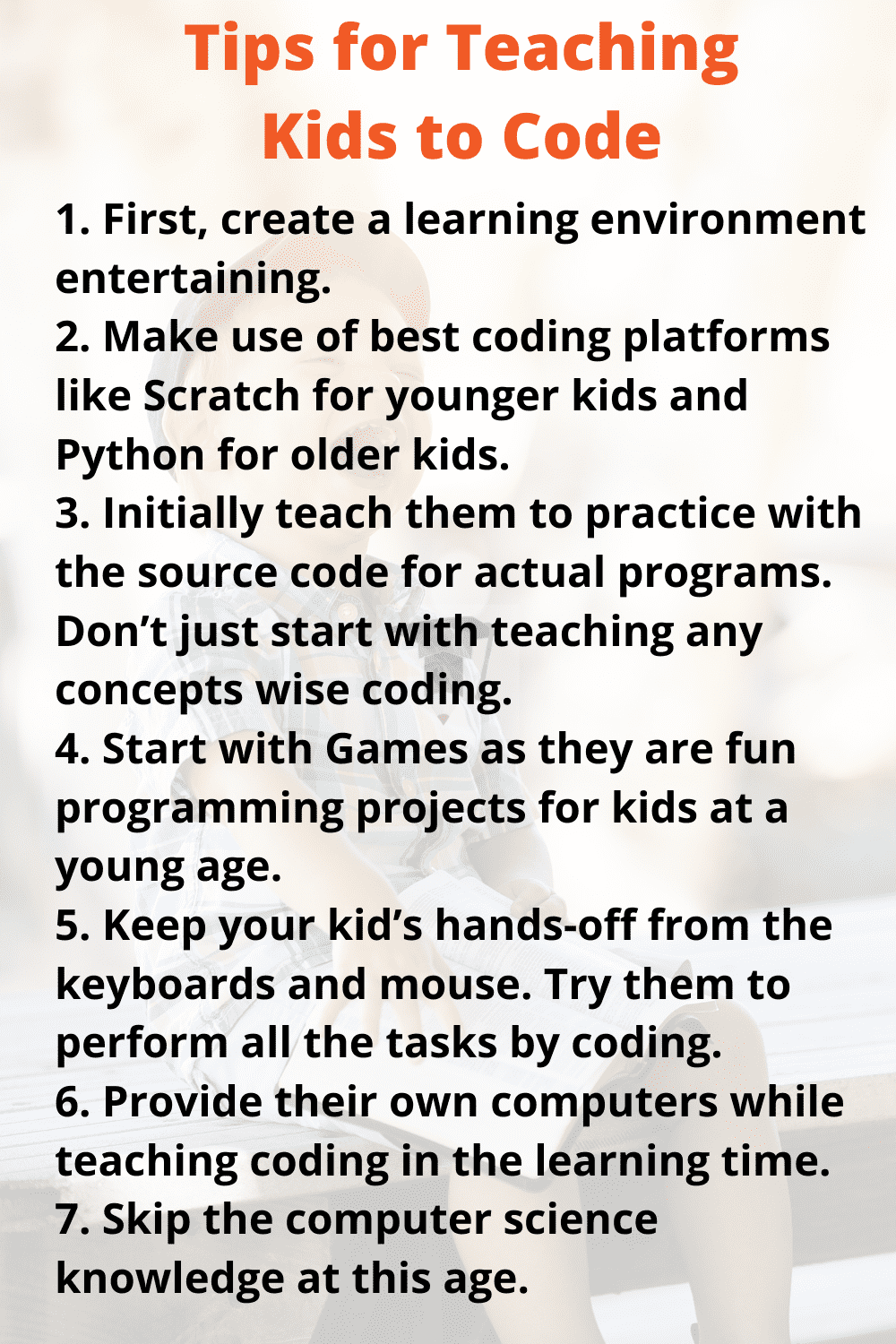 What are the best programming languages for kids? Kids Coding Languages
Still, looking here and there for a proper answer about " which coding languages are best for your kids" then this section can be your last destination. Because here we are going to share the best coding languages for kids.
Remember accelerating the process and learning the coding in an easy and quick way can require some additional things which also make your kids comfortable, dedicated to learn to code, and reach some goals. An additional thing that you require in teaching coding to your kids is a good coding/programming language.
Have you ever think about What Type of Programming Language Would Be Best for Your Child? If not yet, then start it right now and pick up the right language for your children. Let's consider the language like compiled or interpreted when choosing programming languages for children as they are very helpful for kids to learn to code.
Choosing the most helpful programming languages for children is most important for your kids to engage and increase their skills in coding. Here are the best coding languages for kids:
Scratch
JavaScript
Java
Lua
Python
C++
C#
Code.org
Below we are providing the detailed descriptions for most commonly used best programming languages to learn to code by your kids:
1. Scratch: Scratch is one of the most visually appealing of all the kid's programming languages on the list, but the real reason it really shines is in the freedom of expression that it allows its students. The whole idea behind it was to simplify the process of creating animations, designing games, and building interactive stories so that literally anyone could do it from the ground up.
With Scratch, it's all about the simplicity that makes kids passionate about coding. The instant satisfaction of dragging and dropping commands and then seeing interactive stories, games, and animations unroll is wildly influential. So, Scratch can be the first best choice for parents to use while teaching your kids to learn to code.
2. JavaScript:
JavaScript is also one of the great options for children because almost now all the apps and websites are running on this coding language. Some of the main browsers like Google Chrome, Mozilla Firefox, Internet Explorer use JavaScript language as a primary option among all coding languages. If your children master this Javascript language, they'll learn how to change simple web documents into amazing interactive apps and games. And this is somewhat identical to the combination of PHP and Java languages. If you want to see your kids learn coding in an excellent way then javascript can be at your choice list.
3. Lua:
The best scripting language that is excellent for learning text-based coding by kids is Lua. It is simple to learn, use, and set into applications. If you are looking for a free, elegant, powerful, portable, embeddable, and beginner-friendly coding language, then my choice would be a Lua. And also you should know the best thing about this Lua before choosing any other language is that it takes care of low-level things such as memory management for the user. Lua is similar to Python in the way that it eliminates a number of syntax issues that make coding difficult for kids.
Where can my child learn to code?
In this present situation learning all the things online is safe and more interested because the internet provides a wide range of possibilities while learning to code online. If you are looking to find out the ways which are better to learn to code by your kids in live instructions are can be camps, schools, tutoring services, and many more.
Some schools allow the possible chances for elementary and middle-schoolers to learn to code through in-class instruction or after-school coding classes.
Schools – If your kids are learning to code in schools then don't leave any of the options to take advantage of any coding programs at your kid's school management may offer. It is an excellent way to see kids involved in computer science learning at a young age.
Tutoring Centers – Register your kid in an after school coding class if administered at your school, or at your nearest learning center.
Tutoring Services – Recruit a personal tutor from services such as Wyzant or Juni Learning and make your kid learn to code.
Camps – Compete in a summer camp like Camp Galileo, IDTech, or a Tynker CodeMaker Camp.
What offline resources can help my child learn to code?
Children can also learn some of the computing concepts without a computer or tablet device. Just engage your kids with some other marvelous options like Hands-on activities using crayons, playing cards, and board games to teach coding to children.
Board games – Preschoolers can learn to code using fun board games such as Robot Turtles, and many more!
Unplugged learning – Kids can also learn computing concepts offline by teaching projects discovered through CS Unplugged.
Parents can find endless benefits on Learning to code. From preparation for the future to the development of soft skills and academic skills, there are countless reasons for kids to learn to code. These endless benefits have appeared because of the growing awareness across the world. So, you should thank this enhancing the education system as they are letting parents and kids know about the importance of learning to code.
Your kids can learn to code online with coding courses and apps, or they can learn in-person or offline by camps, board games, personal tutors. So, at last, we need to convey the best content and knowledge about coding for kids for parents and kids in 2020. Hence, that makes parents to choose the best solution for your child and get started coding for small real-world situations.
FAQs on Coding for Kids
1. What is Programming for Kids?
Programming for Kids is both a great brain exercise and a way to gain valuable skills for their future.
2. What age should you start coding?
Kids as young as 4 to 7 years of age can start learning programming basics and do coding for their dream games, apps, etc. Actually, coding for kids has acquired more popularity in recent years as the technology becomes part of everyday life. Parents who are getting their kids to learn to code at a young age can set their career in success way and achieve their lifetime goals easily.
3. What are some of the good reasons to make your kids learn to code?
If you are introducing your kids to coding at a young age then you must consider some the following good reasons:
In 2020, there will be nearly 1 million unfilled tech jobs in the United States due to a shortage of qualified engineers. So, there is a huge scope to become your kid an engineer in the future.
Computer science develops skills in a number of corollary areas including math, science, problem-solving, teamwork, project-based learning, creative arts, and more.
"Coding teaches you how to think." – stated by Steve Jobs. So, learn how to code and think wisely.
Computer programming improves skills that are directly relevant to today's job market.
Computing powers almost every industry from education to farming, from law to business, and from construction to medicine.
4. How to teach children to code?
You can teach kids to code easily by following our tips for teaching children to code available over here. So, check out them from this guide before you introduce coding to your kids.